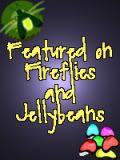 I was really excited to find out today that I am being featured on
Fireflies and Jellybeans
this morning! What a sweet surprise! They are going to be featuring a different blog every Friday. If you would like to submit a blog to be featured go to their site and click on their contact button.
Thanks ladies!!
I'm very flattered!!
For today's project I was able to make something with things that I have lying around my house. I was looking around at what I have and I noticed this really cute wooden bowl that we got for our wedding.
I really like it, but the finish has pretty much worn off, so it looks a little shabby. I decided to first paint it brown.
After the brown layer dried I painted it with Crackle.
Crackle is time sensitive. You have to paint the top coat an hour after you put it on. I used a white paint for the top coat. When everything was dry I cut out a piece of craft paper and used spray adhesive to adhere it to the bottom of the bowl. 
I actually think that worked better than Mod Podge. It was really easy to work with. It works really well with fabric too. Have a great weekend and a Happy Mother's Day!!