Hi, I'm
Valerie
and I'm addicted to Poppies at Play.
Your Turn: Hi, Valerie.
Okay, so I'm a lil' goofy, but kidding aside. Aren't we all addicts? I love visiting Poppies, there is creativity ooozing all over. And Fridays, there's a downpour of creativity. I am very honored to be featured here today.
This is me. This is me on a day that I actually did my hair and makeup. You can probably find me during the week with my hair pulled up in a pony and no makeup at all. Who has time, when there are projects to be had and kids to take care of? Right, ladies? Can I get an Amen?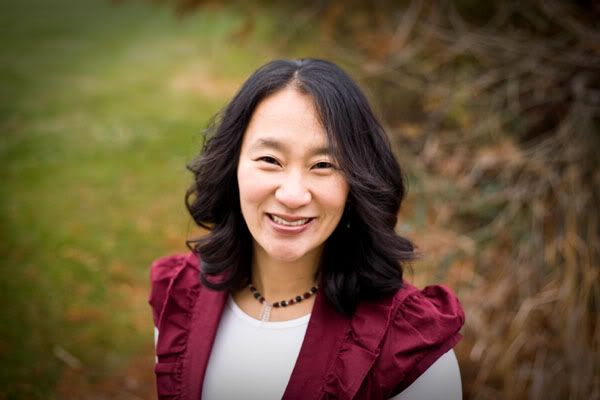 This is my family. Love them. Addicted to them.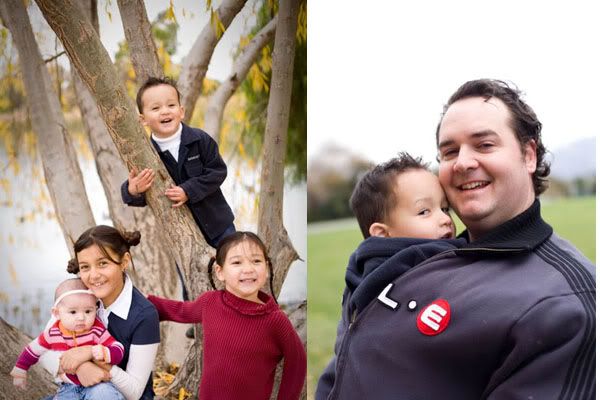 When, I'm not taking care of kids or doing other projects, I like to do a little of
this
: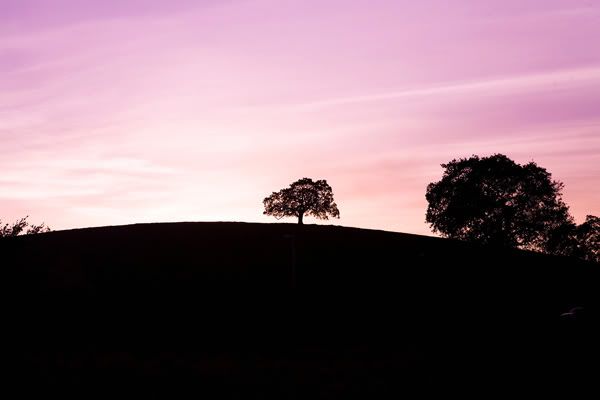 Let's get started on today's project, shall we?
Lil' People Birthday Chart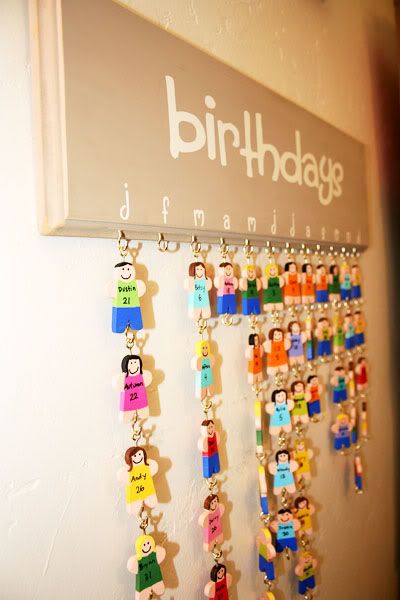 What you need:
Little gingerbread men. I got mine online at Hobby Lobby.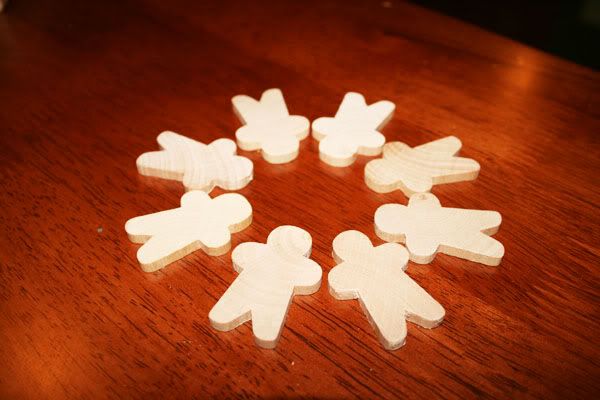 Hooks and Eyes
Board and vinyl lettering

Getting started:
1. Paint your little gingerbread men/women. I color coded them according to family.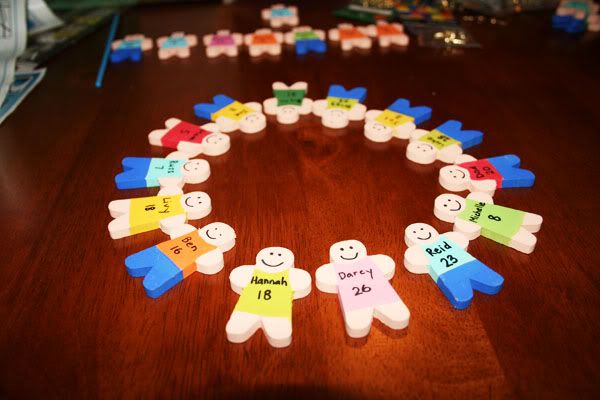 2. Play around with them because you can't resist. Lil' people dominoes was my favorite!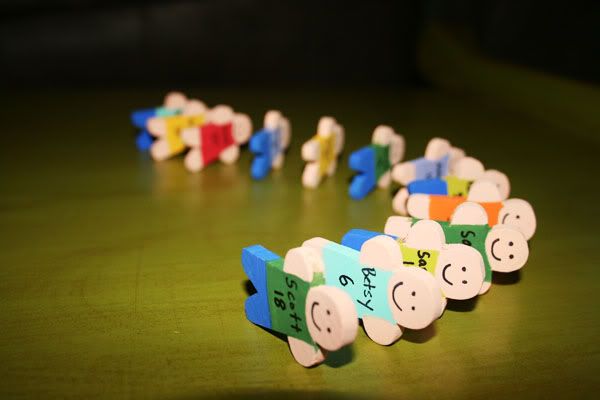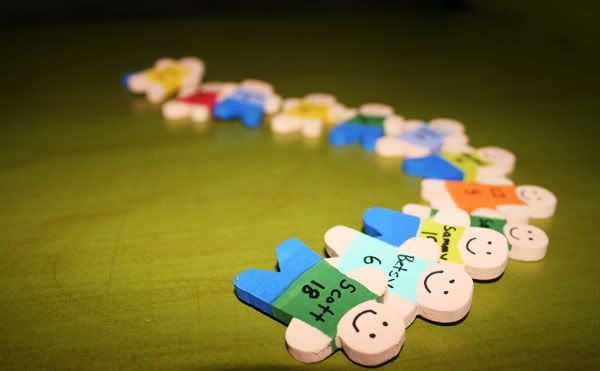 3. Drill holes in the tops and yes, I must say this, in the bottoms of your lil' people. At this point, you may be attached but I can tell you that
no lil' people were hurt in the making of this project
, no matter how realistic the picture below is.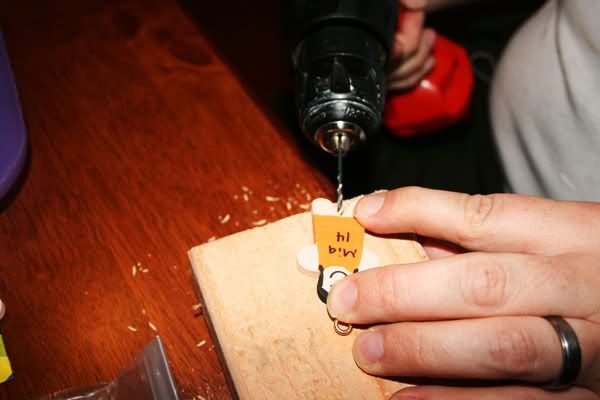 No harm done. See? Still smiling.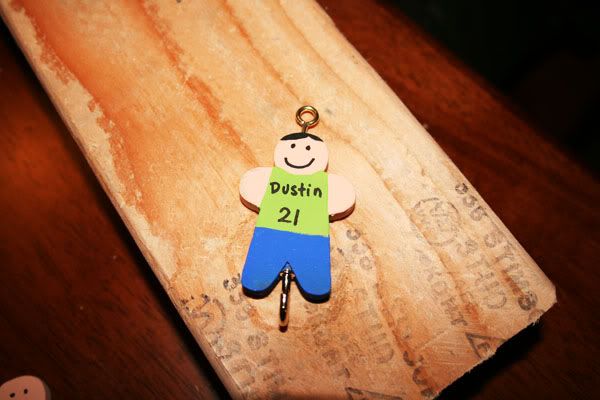 After screwing the hooks and eyes in, make sure you put some on the birthday board.

Finishing Up:
And now, the funnest part. . .putting the lil' people on.
I love it. It's amazing how accurate I was in creating them. Doesn't this look exactly like Andy?
Why do I have Andy on my birthday chart, you ask? It's part of my addiction to Poppies at Play.
Just kidding. We're related. Our husbands are brothers.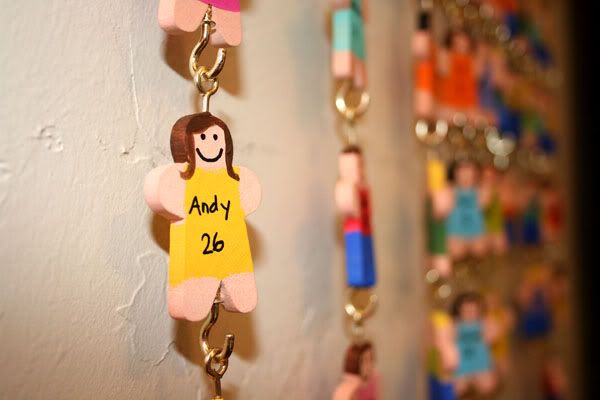 Now, I can continue my quest in becoming the best aunt in the world because I will never forget a birthday!
Thanks for having me here today. You can visit me
here
.
Thanks so much Valerie for being our guest today! When you visit:
you'll see she really is good at a
million different things.
Valerie used to
teach school
and preschool, so if you are needing some
great games and learning activities,
it's the perfect place to find them! Like this
She recently moved into her home and you'll often find
fun projects
she's doing around the house such as
She's also an
amazing photographer:
Make sure and stop by and see her blog! And give her a big "HELLO"!